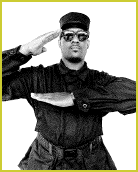 There's A Poison Goin' On (by David Kelly)
Chuck and co, re-energised and ready to fight the powers that be - and that means the music industry.
There is a strong comparison to be drawn between Public Enemy and Prince. Both trailblazed their way through popular music, finding their commercial and critical peak in the '80s. Both spent the '90s releasing patchier work, still imbued to some degree or other with their own individual genius, which was cared for by a devoted but ever dwindling audience. Both grew restless, reassessing their earlier material: drawing up plans for compilations of recordings taken from their more successful years, and making new music with the musicians and producers from their 'classic' periods. Both became uppity with their record labels, demanding a creative and contractual freedom the corporations were unwilling to permit. "If you don't own the master, the master owns you", says Chuck D on '...Poison...'s closer, the music industry assault 'Swindler's Lust', making precisely the link between corporate culture and slavery for which Prince was derided in 1994. Both have turned to the Internet as an alternative means of distribution (this album is, for now at least, only available on-line, via www.atomicpop.com). Both have been musically fired up by their struggles. And both, as a consequence, may have to watch their finest music in years reach the smallest audiences of their careers.
There is, of course, a significant difference. Prince believed that, having made millions of dollars for his record company (of which he received a very small slice), he deserved to be cut some slack, to be able to explore areas that interested him, whether or not they might interest MTV. His position is personal; the point behind his reformed Revolution is almost certainly more sentimental than commercial.
Chuck D, on the other hand, is making a political point, taking a moral stand - who has the right to own the music of Public Enemy if not him? "What am I", he asks on 'Crayola', referring to his major label past, "another number and a ho?" And, of course, the very notion of 'ownership' is, in America at least, a racially sensitive issue.
There is a powerful argument here, and it is laudable that artists of their stature should take such stands. But that's less important than the fact that, for the first time in a good few years, ol' Mistachuck sounds angry - and powerfully inspired. As he raps in 'LSD', "Rather try at 37 than die at 26", and over some of the most spare, least cluttered tracks they've ever constructed sit words of passion and eloquence, like a PE manifesto for 1999.
'Crash' rants at the complacent (us) who allow their lives to be run by computers - and the dark fate that will befall them come Y2K. '41:19' - a reference to the 41 bullets New York police felt obliged to discharge in the direction of unarmed Amadou Diallo earlier this year, and the 19 that found their target - is a protest laced with dark, deadly wit. 'I', a powerful highlight, sits a fine old funky R&B track behind Chuck's in character meditations on poverty and homelessness; sensitive and insightful, a typical day in this guy's life is brought to a terrible end - and Chuck's message hits home.
But his main theme is hip-hop and the music industry - and, frankly, he doesn't approve. 'Do You Wanna Go Our Way???' (to hear a sound clip from this track, click here),'Here I Go', 'LSD', 'Crayola' and the wonderful 'Swindler's Lust' all lash out at the industry, and those acts prepared to collaborate for commercial gain. "Radios getting sucked by labels under the table" is a typical line, as is his Fugees/Puff Daddy sideswipe, "Shit is Killing Me Softly with that same damn song". And just to prove the point, some of the album's finest P-Funk squelchy basslines, melody traces and rhythmic invention accompany these diatribes - this is not sour grapes.
Flavor Flav also deserves credit here, both for the intense '41:19' and the album's light spot, the self-produced 'What What'. But it's Chuck who stands out, rapping with surprising aggression, and back on form.
God, he's livid. God, it's good.

He Got Game
(from NME.com web site) by Stephen Dalton
TEN YEARS AFTER 'IT TAKES A Nation Of Millions...', hip-hop is in a lamentable state. Lame, sugary R&B and flaccid pseudo-soul are the norm and even the most promising gangstas are gunning each other down. Take your pick: tragic or pathetic. Luckily, here comes Uncle Chuck, the stern-voiced sports coach, to whip rap's sorry ass into line.
This is ostensibly a soundtrack to Spike Lee's new basketball-themed movie. Naturally, though, since it also marks a momentous reunion of the greatest rap'n'roll band in the universe, the resulting volcano of noise is a soundtrack in name only. Welcome to The Thoughts Of Chairman Chuck, Part 98.
Business as usual in the turbo-tonsilled polemic department, then. The crucial difference from Chuck's 1997 solo album, though, is that here he is once again flanked by seismic turntable technician Terminator X, hyperactive comic foil Flavor Flav and the legendary Bomb Squad production team. Intriguingly, Professor Griff is now back in the fold after almost a decade in the wilderness for making anti-Semitic remarks. The old chemistry is fizzing.
And chemistry there is. Because although PE now lack that hair-raising car-crash impact which characterised their early albums, Chuck D still possesses the most booming, fear-of-God vocal delivery while his fellow sonic warriors continue to innovate. Thus 'He Got Game' abandons the 'hectic soul' of 1994's 'Muse Sick-N-Hour Mess Age' for a leaner musical foundation built from string loops, gospel voices and spare, precise samples.
Tellingly, PE have co-opted a few Wu-Tang moves; not stealing their style, more acknowledging the parallels with their own self-sufficient siege mentality. Clan stalwart Masta Killah even guests on the huge, prowling orchestral swagger of 'Resurrection', while KRS-One provides an anchor to the old skool with his edgy diatribe over the swirling harps of 'Unstoppable'.
Elsewhere, Chuck adopts a warm preacherman vibe for the title track, a sublime groove based around Buffalo Springfield's epochal 'For What It's Worth', which climaxes with Flavor's remarkable sermon: "We all come from the divine... love conquers all/This is a wake-up call to all your sleeping souls". Hallelujah, boyeeee. And there's more turbo-gospel verbosity on 'What You Needs Is Jesus', this time with Chuck railing against the "new slave trade" in fire'n'brimstone mode.
Fans of PE's dense, Old Testament conspiracy rants will love 'Revelation 331/3', in which Tupac's slaying, the Pentagon, Louis Farrakhan, Saddam Hussein and (possibly) the Welsh Tourist Board are all bonded in some insane verbal fantasia of apocalyptic malevolence. The musical backdrop is all crackling flames and holy war: the sound of Chuck getting millennial on our asses.
Then again, he reverts to media-savvy street preacher on 'Politics Of The Sneaker Pimps', which takes an unlikely sideswipe at the techno goth gonks... erm, sportswear corporations with their ghetto-targeted marketing. Finally, having kept things light and nimble for most of the album, 'Go Cat Go' piles on the Prodigy-esque guitar thunder like the world ended yesterday. Awesome, fearsome and louder than an angry buffalo with piles.
PE, then, still rock. More importantly, they remain the benchmark against which all rap must be tested - and, usually, found wanting. 'He Got Game' isn't a world-changing album like its ancestors, just a powerful late-'90s rap statement from unconquered heavyweight champions. There's new skool, there's old skool and there's Public Enemy. Turn it up.

Muse Sick-N-Hour Mess Age
New Musical Express (12/24/94, p.22) - Ranked #20 in NME's list of the `Top 50 Albums Of 1994.'
Vibe (8/94, p.105) - "...a tour de force of densely constructed music and verbiage. Snippets of Stax-Volt grooves, reggae, soul, and metal bop and weave over gut-punching bass lines and wicked drumming while front man Chuck D lets fly with...pronouncements, warnings, and accusations..."
Spin (8/94, p.84) - Highly Recommended - "...Knee deep in the age of gangsta, at the anticlimactic millennial edge of a world already gone wrong, Public Enemy has dropped its latest..."
Q Magazine (9/94, p.106) - 4 Stars - Excellent - "...Fact is, the lay off has just made Public Enemy sound fresh again...because they've regained the wicked combination of sonic disturbance and loose, rabblerousing funk that drove classic jams like 911 is A Joke..."
Melody Maker (8/20/94, p.35) - Recommended - "...This LP isn't just a stunning return to form for Public Enemy, it's perhaps the most powerful horrified answer to what you are doing to black culture yet..."
New Musical Express (8/27/94, p.39) - "...only slightly mellower and less chaotic than the past...no-one sounds like this..."
Entertainment Weekly (8/26 - 9/2, p.112) - "...it takes true guts to dis gansta rap and to challenge the black community to confront its problems..." - Rating: B
Alternative Press (9/94, pp.80-81) - "...Yeah, we've heard it before but Chuck can make waves even when he's treading water...MESS AGE may be PE's most consistently enjoyable disc..."

Greatest Misses
Musician (11/92, p.104) - "...includes six stronger new raps that not only boast the expected topicality but add a new dimension to the soul of the P.E. sound. Don't miss it..."
Q Magazine (11/92, p.118) - 3 Stars - Good - "...the uncompromising Public Enemy sound of old returns....samples and beats attack the listener from all angles. The remixes are interesting..."
Q Magazine (9/95, p.132) - 4 Stars - Excellent - "...fine by any but their own Olympian standards...showed Public Enemy ploughing old furrows..."
New Musical Express (10/10/92, p.39) - "...a fine compilation album....at this time, it's probably the only record Public Enemy could, or should have made.."
Entertainment Weekly (9/25/92, p.65) - "...six absurdly cautious remixes of tracks from their four albums....The new music sounds, of all things, almost relaxed..." - Rating: B-
Spin (11/92, p.114) - Not Recommended - "...there is no big boom, no indelible Chuck D or Flavor Flav aphorisms to stain your brain. The project is in need of a jump start...The whole thing is stagy, lacking fire..."


Apocalypse 91...The Enemy Strikes Black
Spin - Ranked #7 in Spin's list of the 20 Best Albums of 1991.
Melody Maker (12/91) - Ranked #21 in Melody Maker's list of the top 30 albums of 1991.
Rolling Stone (10/3/91) - 4 Stars - Excellent - "...attempts nothing short of setting a sociopolitical agenda for the black community....APOCALYPSE '91 needs to be watched..."
Spin (10/91) - "...The funk of R&B, the hooks of pop, the grind of metal...To listen to Public Enemy is to hear a bomb squad explode."
New York Times (9/29/91) - "...hip-hop's prophets of rage...with songs that mix political, personal and promotional statements in quick-cutting, often oblique language..."
Q Magazine (9/95, p.132) - 4 Stars - Excellent - "...fine by any but their own Olympian standards...showed Public Enemy ploughing old furrows..."
Melody Maker (7/22/95, p.35) - "...[album number] four was still massive, still mighty, it still thundered down on you with locomotive force. But cracks in the surface were starting to show...."
New Musical Express (7/15/95, p.47) - 7 (out of 10) - "...a more soulful, funkier stew than previously served but there were a couple of fillers....Good, but not as indispensable as its predecessors..."


Fear Of A Black Planet
(from NudeAsTheNews website) Reviewed by Patrick Kastner
It would not be too much of a stretch to call Public Enemy's third effort, Fear of A Black Planet, the Sgt. Pepper's of hip-hop.

Don't get me wrong. It's not a term a music critic should throw around lightly. Like five stars or "album of the year," it's the type of silver bullet any critic worth his or her salt saves for very few works.

Sgt. Pepper's Lonely Heart's Club Band was the culmination of a musical movement up to the point of its release. At the same time, it exploded in a new direction no one else had conceived. It deflated rivals, famously causing one to have a nervous breakdown from which he never quite recovered. Everything, from the album cover to the band's outfits to, of course, the music itself, created a new universe for the album to exist in, complete with its own characters, vistas, sounds and emotions. In short, it was the greatest work its genre would ever produce.

I'm telling you this because I want you to understand the weight behind my earlier statement. Fear of A Black Planet is the Sgt. Pepper's of hip-hop. It's not only Public Enemy's greatest, grandest statement, it's hip-hop's as well.

It takes everything produced in rap up until its time (including Public Enemy's previous masterpiece, It Takes A Nation Of Millions To Hold Us Back) and synthesized it into a cohesive movement. Fear of A Black Planet is the collective conscious of an entire people at the time of its release. It touches on everything - race, sexuality, entertainment, war, disease, religion, philosophy, politics.

Frontman Chuck D is easily the greatest lyricist to come along since Dylan. With his booming voice, clipped phrasing and rapid-fire delivery, Chuck came on like a lyrical tommy gun, living every bit up to his billing as "the Lyrical Terrorist" in the album's liner notes. "When I get mad, I put it down on the pad / Give you something that you never had," he says on his musical manifesto, "Welcome to the Terrordome." It's no boast. Educated and extremely literate, Chuck D raised the bar for rappers everywhere.

At a time when gangsta rap was blossoming on the West Coast with its themes of sex, violence and power, Public Enemy presented a different message. On the album's opening track, "Brothers Gonna Work It Out," Chuck preaches "United we stand, yes divided we fall / Together we can stand tall," adding, "Brothers that try to work it out / They get mad, revolt, revise, realize / They're superbad / Small chance a smart brother's gonna be a victim of his own circumstance."

That was just the tip of the iceberg. On Black Planet, P.E. comes down hard on everything from bad 911 response times in black neighborhoods to black men who abuse their women, skewering (often hilariously) popular notions along the way. ("Did you know white comes from black? No need to be confused," the band taunts on the title track.)

But as later albums would prove, as great as Chuck was, it was the music that underscored his message and gave it weight. Coming at you like a sonic hurricane, Black Planet attacks your senses from the get-go, bringing on air-raid sirens, shrieking guitar solos and severely dope beats. The Bomb Squad, P.E.'s legendary production team, layered sample upon sample, producing a full-sounding musical soundscape. No one in rap had accomplished this before. Up until the Bomb Squad, rap music consisted of sparse beats, scratches and samples.

The Bomb Squad's crowning glory was the fury with which these sounds assaulted you. Much like psychedelic bands in the '60s created soundtracks for an entire generation's experimentalism, the Bomb Squad somehow tapped into the black rage that was seething under America's surface in the late '80s and gave it a sound. Along with NWA's "Fuck Tha Police," Fear of A Black Planet anticipated early '90s L.A. riots based around the Rodney King beating.

Like any truly great sprawling album, Black Planet wasn't one-dimensional. The rage wasn't the whole story. The album was funky, smooth and imminently danceable. (I counted at least seven songs that sampled James Brown's "Funky Drummer" and another five that sampled "Sex Machine.") As much as a song like "War at 33 1/3" made you want to go out and tear shit up, songs such as "Revolutionary Generation" and "911 Is A Joke" made you want to throw your hands in the air like you just didn't care.

As a whole, the album built to soaring heights, presenting listeners with a minor masterpiece followed by interludes segueing into another minor masterpiece. (There's just too many to talk about in one review.)

Deep into the second side, the stakes are raised even further, beginning with DJ Terminator X's intense scratch-fest, "Leave This Off Your Fu*kin' Charts," slamming sample on top of sample. "B Side Wins Again" and "War at 33 1/3," are each more intense than the last, leave you feeling as if Public Enemy and their dance troupe-cum-security force, the S1Ws, are literally marching across your record player, ready to go to war with the evil, racist forces of the world.

And then they do.

"Fight the Power," originally included on the soundtrack to the Spike Lee film, "Do The Right Thing," revels in all its glory here. If one song can sum up this album, this is it. Just the rousing call to "Fight the powers that be" sends chills down your spine. "Music hittin' your heart cause I know you got soul," Chuck D anticipates a few verses before delivering whitebread America a crushing blow: "Elvis was a hero to most / But he never meant shit to me / Straight up racist that sucker was simple and plain / Motherfuck him and John Wayne / Cause I'm black and I'm proud. / I'm ready and hyped plus I'm amped / Most of my heroes don't appear on no stamps."

After that, what's really left to say?


Fear Of A Black Planet
(from NME.com website) by Danny Kelly
PUBLIC ENEMY have made 'Fear Of A Black Planet' under the fiercest of pressure. As if having to follow up one of the great albums of all time ('It Takes A Nation Of Millions...') was not enough, they've been rent by internal strife, vilified by outside agencies and challenged by De La Soul (hip-wise), The Jungle Brothers (sound-wise) and NWA (badass-wise). Most groups would've buckled beneath the strains, but this isn't 'most groups' and 'Fear Of A Black Planet' is brilliant, a triumphal vindication and the best rap album since their last...
PE have often, and rightly, been compared to The Clash, and just like Mick 'n' Joe's lot did on 'Give 'Em Enough Rope', so Chuck D has used the aggro that his group invariably generates and attracts to drive it on. For 'All The Young Punks', 'New Boots And Contracts', 'Cheapskates' and 'Last Gang In Town' now read 'Contract On The World Love Jam', 'Incident At 66.6 FM' and 'Final Count Of The Collision Between Us And The Damned'. Public Enemy have taken all the negativity and hostility directed at them and have turned it, where it could have been terminal poison, into high-octane life-juice. And Public Enemy have made changes; not the quantum leaps that occurred between their first and second LPs, but significant ones nonetheless. The most noticeable alterations in the sound itself. Gone, to a large extent, are the screaming sonic nerve-lances and curtains of mechanical percussive ordinance; in their place are glinting flashes of horn and more naturalistic (dare one say it? tribal) swathes of drumming. Chuck D has wittered on a lot lately about Afrocentricity; if that continent is anywhere obvious on 'Fear...' then it's in the texture - the deep-seated hubbub - of the music.
So this record is perhaps less revolutionary sounding than its predecessors, but that may well be deliberate, for 'Fear Of A Black Planet', as well as confirming Public Enemy's place at the cutting edge of le rock moderne also seeks to nestle them more comfortably than ever before in the unfolding tableau of black pop. This group does nothing by accident, unconsciously, so the quotes from and allusions to, among others, Sly And The Family Stone, Sam & David, The Chi Lites, Parliament, James Brown, Isaac Hayes, Funkadelic, Aretha Franklin, Marvin Gaye, The Isley Brothers and Soul II Soul which litter these 20 songs can be nothing less than acknowledged markers on the road to the extraordinary place where PE today find themselves. Their respect for their musical roots are more obvious than ever.
All of which means that they can never again quite shock the way they used to and that some of their trademark ingredients are now familiar. But what thrills they remain! The enormous, unstoppable waves of music that they somehow build up, the sheer truth-to-tell authority of Chuck's vocal, the fearless pursuit of ideas - musical and otherwise - no matter how difficult to grasp. And the linguistic three card tricks continue apace. 'Who Stole The Soul?', for instance, is simultaneously about the appropriation of black culture and, dazzlingly, the hijacking of the human spirit by The System. Nobody does this stuff better.
To cases: while 'Fight The Power' and 'Welcome To The Terrordome' are fair indicators of the standards being set here, and 'Pollywanacracka' is the weirdest, most tense thing they've ever done, the heart of this marvellous record beats in ten minutes ('Fear's over an hour long!) of side two. The title track is a building beserk parrot jungle of babble that still manages to get across PE's answer to perceived Caucasian fears of racial adulteration, and the monster that follows it, 'Revolutionary Generation' is just the zenith of all that they've tried to achieve. Ferociously throbbing, and bristling with every trick in the Shocklee/Stephney compendium, it's a uniquely strong declaration in favour (note that, in favour!) of womanhood. Public Enemy have come a long way since 'Sophisticated Bitch'! My first hearing of 'Revolutionary Generation' left me shaking for fully 30 minutes afterwards; only a truly great LP could contain such a jewel.
And truly great is exactly what 'Fear Of A Black Planet' is. I honestly didn't believe that any current group could survive the slings and arrows that have rained down on Public Enemy and yet forge on at the suicidal artistic pace that they have always set themselves. I have been proved utterly and conclusively wrong, the original silly rabbit. Public Enemy - bless them and praise your particular god for them - continue to fight the power. And to power the fight.


It Takes A Nation of Millions to Hold Us Back
(from HipOnline website) by rae gun
The world is pronouncing Rage Against The Machine to be one-of-a-kind geniuses, but without Public Enemy they'd have no career or inspiration. It Takes A Nation Of Millions To Hold Us Back takes the political records of the last fifteen years and renders them completely insignificant.

It doesn't even take hindsight to realize that this record was genius. Chuck D is perhaps the most skilled individual in the rap game. And his skill goes beyond his rhyming skills; his voice is power personified. It digs deep into your soul until you're ready to burst. Then there is Flavor Flav, the clowned prince of rap. His silly rhymes add a lighthearted spirit to the heavy depths that Public Enemy takes you to. The undercurrent is heavy, but a lot is owed to the master of the turntables, Terminator X, who was far ahead of his time. The beats are timeless and the cuts will leave you in awe.

The album boasts front to back classic tracks. Not one track goes by where you don't miss a line that is so significant that every band in the world is sampling it today, so significant that Public Enemy would sample themselves within the same record. The first bomb is dropped on "Bring The Noise". Chuck D will turn you out. His voice booms while Flavor Flav agitates him throughout. "Don't Believe The Hype" is an anthem, and though not as groundbreaking as their biggest hit, "Fight The Power", it is still damn meaningful. "Flavor Flav Cold Lampin'" is silly as hell but a complete trip. Flavor has the flavor and it tastes like fun.

Then you take a break for a song or two. "Louder Than A Bomb" starts off calm and tranquil, but Chuck kills that. He is fiery as hell and even madder. And you know Public Enemy doesn't dance around topics; just check out "Caught, Can I Get A Witness". Chuck announces, "Caught, now in court 'cause I stole a beat/ this is a sampling sport," and goes on to bust more heads with, "you singers are spineless/ as you sing your senseless songs to the mindless/ your general subject love is minimal/ it's sex for profit."

"Night Of The Living Baseheads" is the most memorable track from this album, thanks to a crazy video. How could anyone forget the opening: "Here it is/ BAM/ and you say Goddamn/ this is a dope jam"? But the song is deep, not an egotistical journey. They were one of the first groups to kick the world in the ass about the real drug epidemic in the inner cities. As powerful as "Night Of The Living Baseheads" is, it's "Black Steel In The Hour Of Chaos" that finds Chuck D pouncing, more pissed off than ever. I can listen to this track over and over again. The plot is a prison escape, and although it's fictional, Chuck still finds a way to take shots at everyone from the federal government to racism.

The album never relents as it gives you a finale of three dynamite militant tracks: "Rebel Without A Pause", "Prophets Of Rage", and "Party For Your Right To Fight". "Party…" is a piece of sampling genius. The rhyming is bone chilling as Chuck D kicks in your right eardrum and Flavor Flav bangs on the left.

Still think Rage Against The Machine is the top of the political mountain? You only need a few lines from "Party…" to realize how wrong you are. Could Rage ever take on such an opponent as Public Enemy does on several occasions in the same song? "This party started in '66/ with a pro-black radical mix/ then at the hour of twelve/ some force cut the power/ and emerged from hell/ it was your so called government/ that made this occur/ like the grafted devils they were," and, "J. Edgar Hoover and he coulda' proved to 'ya/ He had King and X set up/ also the party with Newton, Cleaver and Seale." The album title speaks the truth; It Takes A Nation Of Millions To Hold Us Back!


Yo! Bum Rush the Show
New Musical Express (9/25/93, p.19) - Ranked #49 in NME's list of The 50 Greatest Albums Of The '80s.
Q Magazine (9/95, p.132) - 4 Stars - Excellent - "...a stunning opening...just the first, in retrospect almost shy, step on a remarkable journey...a hard, droning extension of the basic drum`n'scratch Def Jam template that had served LL Cool J and the Beastie Boys so well..."
Melody Maker (7/22/95, p.35) - Recommended - "...It wasn't just a new sound, a discovery. It was like being struck by a meteor..."
New Musical Express (7/15/95, p.47) - 9 (out of 10) - "...YO! BUM RUSH THE SHOW announced a hip-hop group who smouldered beneath dark, sparse beats like no other, introduced us to the coolest vocal double act ever...and featured as striking a statement of intent as you could wish for in `Public Enemy Number 1'....brilliant..."





Back to Dean's Tribute to Public Enemy (Main)